Following its trail of hosting community meet-ups and workshops in Jaipur, Awaaz Studio hosted a talk-show at The Good Times Cafe on Saturday. I thought of it to be just another event when Ankush Nagpal, Founder, Awaaz Studio invited me over, but I am glad to say that I signed up for Vaarta– A Souvenir Of Experiences anyway, because I came out with a bunch of new friends and sweet memories that will be cherished for life now on.
Navpreet Singh, the speaker of the day, a storyteller, founder of Humans of Jaipur City, spilt the beans about juggling between a blog, his full-time job, studies and personal ups & downs, in a candid talk with Sachin Singhal which was followed by a group interaction activity for the visitors.
Here are the snippets of what Navpreet revealed about his journey as a storyteller and other things.
On Approaching Strangers
Navpreet reckons that there is no set formula or set of questions to initiate a conversation with a complete stranger. It depends on the environment, mood, settings, etc. He generally tries to scrape off formal salutations with kind gestures like a smile or a compliment as it builds a sense of trust.
About Societal Taboos & Issues of Generation
Navpreet is trying to barge taboo elements out of the society through his stories like sexuality issues, mental illness that comes in form of depression, anxiety, hallucination et al.
He has covered a plethora of people ranging from sex workers and transgender to rickshaw pullers, cab drivers, etc. The major aim here is to pull out the positive aspect of people that will eventually enlighten lives of others. He does not believe in filtering out people on any grounds and that's what has enabled him to create a comfortable sync with his muses. He emphasised that a conversation can actually heal illness, soothing mind & soul at an equal pace.
And The Best Part…
What followed then after was a line-up of laughter, discussions, cribbing, gossips, a lot more smiling and a synergy of positive waves reverberating across the cafe, my favourite part- Interaction Activity.
Also not to forget the delectable pizza, momos, spring rolls and other appetisers of The Good Times that I gobbled up with my new found friends. The pizza is going to pull me back to the cafe anytime soon!
"We don't talk anymore, we chat, we text, we email, but we do not talk. I believe that half of the problems can be smothered out by talking itself." said Ankush later.
I second his thought, completely. In today's fast-paced life we need to talk over and hash out the emotions that we bury in our centres. I thank the organisers, The Good Times Cafe and each one of the present members to unwrap such good times in my life.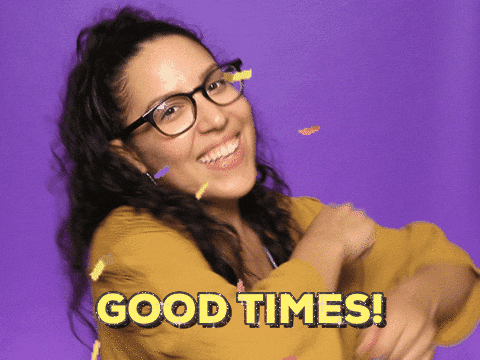 Photo Courtesy: Awaaz Studio
GIF Courtesy: giphy